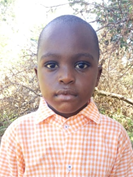 Emmanuel Mwambire Kazungu
Emmanuel is the first of 2 children. Both of his parents are alive and work as casual workers. Since casual jobs are hard to find his family struggles to meet their basic needs not to mention cater to the education of their children. MCF intervened to give Emmanuel a chance to achieve his dreams. He enjoys playing soccer and would like to become a pilot.
School
MCF In His Grace Vipingo PS
Grade
Class 1 (1st Grade)
Emmanuel's Unmet Needs
Primary School
Your friendship will provide food, a quality education, spiritual development, medical care, counseling and psychological support.
Review your selections and confirm your payment on the following page
Total required to fully sponsor Emmanuel: $50